After Nipple Sparing Mastectomy
Offered at our convenient location in New Jersey
We are no longer offering this procedure. Click here to view all the surgical procedures we have to offer. Thank you!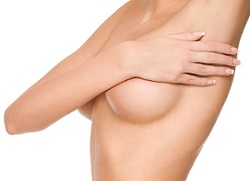 Breast reconstruction techniques have advanced greatly over the past few years. In addition, techniques have significantly evolved to help produce as natural a result as possible. For women who have certain anatomic and tumor characteristics, nipple-sparing mastectomy may be an option.
While traditional mastectomy techniques have required that the nipple and areola be removed along with the underlying breast tissue, nipple-sparing mastectomy preserves this anatomically sensitive structure! Nipple Reconstruction following this method relies heavily on the use of tissue expanders and implants, and results are extremely natural.
Reconstruction After Nipple-Sparing Mastectomy – Contact Dr. Glatt in New Jersey
To learn more about breast reconstruction options contact Dr. Glatt's New Jersey practice today.