HydraFacial
Offered at our convenient location in New Jersey
The HydraFacial MD is a medical grade, facial resurfacing treatment that can be given in as little as 30 minutes. It promotes long-term skin health benefits and can be tailored to meet the specific needs of all skin types.
The multi-step treatment cleanses, evenly exfoliates and extracts to remove impurities and dead skin cells while simultaneously replenishing vital nutrients including Antioxidants, Peptides, and Hyaluronic Acid. The HydraFacial MD offers instant, noticeable results with no downtime or discomfort.
In clinical studies performed by leading U.S. doctors, the HydraFacial MD was shown to provide better results than many other skin rejuvenation devices. Most importantly, the HydraFacial MD is the only hydradermabrasion machine that uses the patented 4-in-1 Vortex Technology.
Patented Handpiece & HydroPeel Tip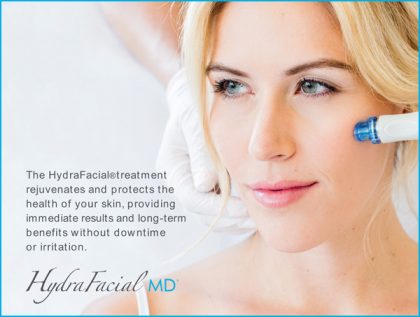 The ergonomically designed, dual-functioning handpiece provides precise control over serum type and flow, enabling your Aesthetician to tailor the treatment to different skin types and concerns. In addition, each treatment uses a series of unique HydroPeel tips – with multiple edges to gently exfoliate the skin several times per pass, achieving better, more even results.
Experience Vortex Technology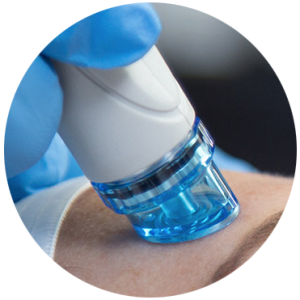 The unique spiral design of the HydroPeel Tips used in conjunction with the HydraFacial MD proprietary vacuum technology and serums, creates a vortex effect to easily dislodge and remove impurities while simultaneously introducing hydrating skin solutions with potent antioxidants.
This multi-step process includes Vortex-Exfoliation, Vortex-Peel, Vortex-Extraction, Vortex-Boost, and Vortex-Fusion.
Results
Hydrafacial will leave your skin glowing! This treatment is an excellent way to look your best before a special occasion or to prepare your skin for microneedling, Botox, or other cosmetic treatments.

LED Light Therapy
LED Light Therapy ensures nourishing serums have time to absorb into pores. Red Lights reduce the appearance of fine lines and wrinkles, and help to smooth skin for even texture. Blue Lights target and kill p. acnes bacteria, the strain of bacteria that plays a key role in causing most acne.

Request an appointment for your HydraFacial MD treatment with one of our expertly-trained Medical Aestheticians here.