Liquid Facelift
Offered at our convenient location in New Jersey
A liquid facelift is a set of non-surgical procedures that revitalize the face and reverse the effects of aging. Liquid facelifts can smooth fine lines and wrinkles and restore youthful volume to facial features without the need for invasive surgery.
Rejuvenate Your Skin in Less Than an Hour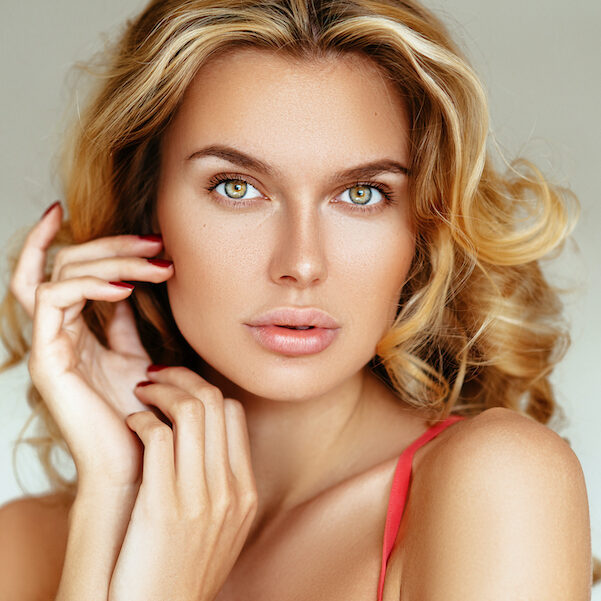 Liquid facelifts have become one of our most popular cosmetic treatments for their ease, convenience and eye-catching results.
If you want to learn more about liquid facelifts, contact Brian S. Glatt, MD, FACS. Individuals from Northern New Jersey, Morris County, and beyond seek the help of Dr. Glatt for facial rejuvenation without the need for surgery. His nurse injector, Katelyn Peterpaul MSN, RN, helps patients with minimally invasive rejuvenation techniques.
About Liquid Facelifts in Northern New Jersey
Individuals looking to revitalize their appearance with a liquid facelift will receive the highest level of care at Premier Plastic Surgery Center of New Jersey. A traditional facelift procedure (rhytidectomy) involves extensive surgery and can take weeks for recovery. The liquid facelift combines minimally invasive treatments to achieve more youthful contours in less than one hour. Patients can immediately resume their everyday activities.
Liquid facelifts can address fine lines, wrinkles and folds. By integrating a combination of injectables, a liquid facelift can restore volume and enhance facial contours in targeted areas such as the cheeks, lips, jawline, and tear troughs (the area beneath the inner eyes).
Benefits
Reduces fine lines and wrinkles
Restores youthful facial volume
Enhances the natural contours of the face
Treats sagging or loose skin
Less recovery time than a regular facelift
Less expensive than a major facelift
Less invasive than a traditional facelift
Eligible Candidates
Candidates for a liquid facelift are healthy individuals who experience mild to moderate skin laxity, lost facial volume or wrinkles. Eligible patients typically want to plump their lips, regain youthful volume to their cheeks and/or treat sagging and loose skin.
A liquid facelift isn't a major recontouring of the face but rather, it revitalizes the natural contours of your face. In some patients, a liquid facelift won't provide the same level of results as a traditional facelift procedure. Make sure to ask any questions during your consultation to discover just what a liquid facelift can accomplish for you.
Personal Consultation
Nurse Injector Katelyn Peterpaul MSN, RN, conducts the liquid facelifts at Premier Plastic Surgery Center of New Jersey. She possesses a keen aesthetic eye and in-depth knowledge of the latest and most innovative non-surgical techniques. She employs these skills to help patients achieve their aesthetic goals.
To schedule a consultation in our Morristown office, please call Premier Plastic Surgery Center of New Jersey at (973) 889-9300. You can keep up to date with the latest news in aesthetic and reconstructive surgery by following our blog.
Safe Preparation
Preparation for a liquid facelift is straightforward. For two days before the procedure, avoid drinking alcohol and medication that might thin your blood, such as ibuprofen and aspirin. On the day of your procedure, you should abstain from wearing make-up and be free from sunburn or any skin wounds or infections on the face. If you experience an acne break-out, it's best to postpone your liquid facelift until the outbreak clears up.
Techniques for a Liquid Facelift
During a liquid facelift, your medical professional expertly utilizes a combination of injectables.  No single injectable should be used in every region of the face. The most effective liquid facelifts result from a combination of injectables custom-tailored to every individual's unique needs. Injectables include neuromodulators such as Botox and Jeuveau and injectable fillers, such as Juvederm XC, Juvederm Voluma XC, Restylane Lyft, Radiesse, Sculptra, and Revance RHA.
Neuromodulators
Many fine lines and wrinkles form on our faces due to muscle tension. Stress, anxiety, and the normal effects of aging can create muscle tension. Over time, this muscle tension forms the fine lines and wrinkles in our skin such as worry lines, the "elevens" between our brows, crow's feet, and more. Neuromodulators work by interrupting the neurological processes that cause muscle tension. In effect, they relax our facial muscles which prevents the tension that causes fine lines and creases.
Botox – The most well-known neuromodulator, Botox has stood the test of time.
Dysport – Dysport works the same as Botox but with a different formulation. Some patients report the effects of Dysport appear sooner, but Botox lasts a little longer.
Jeuveau – The newest neuromodulator. Jeuveau functions as other neuromodulators but uses yet another formula. Some patients report better results with Jeuveau while others prefer Botox.
Injectable Fillers
Collagen and elastin are essential ingredients in youthful skin volume and texture. As we age, the tight collagen networks beneath the skin loosen and diminish. This reduction in collagen and elastin causes our faces to lose the full volume of youth. Injectable fillers use biocompatible compounds such as hyaluronic acid (HA), poly-L-lactic acid (PLLA), and calcium hydroxylapatite (CaHA) to rebuild this scaffolding that supports our skin. They fill the gaps caused by the reduction of collagen and elastin. Injectable fillers also stimulate collagen and elastin production to help restore the natural fibers that contribute to a youthful glow.
Juvederm XC – Juvederm XC, an HA filler, first appeared in 2006 to treat modern and severe facial creases and wrinkles. Juvederm XC works great on lines around the nose and mouth.
Juvederm Voluma XC – Juvederm formulated Voluma XC to add volume to the midfacial region, provide a lift to the cheeks, and enhance facial contours.
Restylane Lyft – Restylane Lyft, also an HA filler, adds volume to the cheeks and helps smooth smile lines. 
Radiesse – FDA approved for the treatment of facial wrinkles and lines, Radiesse is a CaHA injectable that adds volume to the face and boosts collagen. It's very effective on the nasolabial folds.[2]
Sculptra – Sculptra is a PLLA filler approved to treat lost facial volume and activate the production of new collagen. Sculptra effectively treats the temples, mid-cheeks, and lower facial regions.
Revanace RHA-2, RHA-3, RHA-3 – Revance's line of Resilient Hyaluronic Acid (RHA) represents the newest innovation in injectable fillers. RHA fillers are designed to treat dynamic areas of the face so your facial expressions look natural and youthful. Ask our expert nurse injector, Nurse Injector Peterpaul, about how RHA fillers can revitalize your features.
Recovery
Recovery is simple. You can return to work the same day as your procedure but you may find it useful to take a day or two off work. You might experience some minor swelling and bruising. Avoid touching the treated area for a few days unless instructed to massage the region. Make sure to follow all aftercare instructions provided to you by Premier Plastic Surgery Center of New Jersey.
Results
A liquid facelift is remarkably effective in reversing mild to moderate wrinkling. In some cases, the results are indistinguishable from a surgical facelift. Studies show that liquid facelift treatments are safe, effective, and elicit excellent patient satisfaction.[3][4][5]
How Much Does a Liquid Facelift Cost in New Jersey?
Because a liquid facelift combines treatments from a variety of injectable solutions, there is no set cost for a liquid facelift. After developing a personal treatment plan tailored for your specific features, Premier Plastic Surgery Center of New Jersey will provide you with pricing for the treatment plan(s) discussed.
FAQ
What's the difference between a liquid facelift and a traditional facelift?
A traditional facelift is a surgical procedure to rejuvenate your face. Liquid facelifts use injectables rather than surgery to add volume to the face, smooth lines, and wrinkles, and boost collagen and elastin production.
Can I have a liquid facelift if I'm pregnant or breastfeeding?
No. Liquid facelifts should be postponed until after you've stopped breastfeeding for about 3 months.
Can I have an allergic reaction to liquid facelifts?
Mention any known allergies during your consultation. Most ingredients in the fillers used in liquid facelifts are natural. However, it is possible for some patients to have an allergy to lidocaine, a common anesthetic addition too many fillers.