Neuromodulators
Offered at our convenient location in New Jersey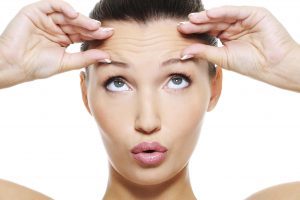 Many people become frustrated when their outward appearance begins to differ from the way they feel inside. As we age, moderate to severe lines can form between the eyebrows, on the forehead, and around the eyes. These lines can make you look angry, sad, or tired – even if you feel relaxed, happy, and alert. BOTOX and/or DYSPORT treatments, offered by Dr. Brian Glatt's Nurse Practitioner Jennifer DeMaio at Premier Plastic Surgery Center of New Jersey, are an effective and minimally invasive way to reduce the appearance of wrinkles.
Botox and Dysport: The Benefits
As the skin becomes less elastic, repeated contraction of the facial muscles creates visible lines and wrinkles, even at rest!
Over time, the repeated movement of certain muscles, such as those in the forehead, can cause the overlying skin to crease. BOTOX and/or DYSPORT treatments relax the underlying muscles that cause these lines. Once the muscles are at rest, the skin becomes smoother, creating a more youthful, natural, and wrinkle-free appearance. Facial expression is still possible, but with more subtle movements and without all of the wrinkles that you once had.
Before & After Photos
Customized Results
Although both BOTOX and DYSPORT work relatively the same, Jennifer DeMaio takes a more individualized approach to treat wrinkles for her patients. This customized treatment produces superior aesthetic results and ensures that our patients receive the best treatment option for each specific facial area.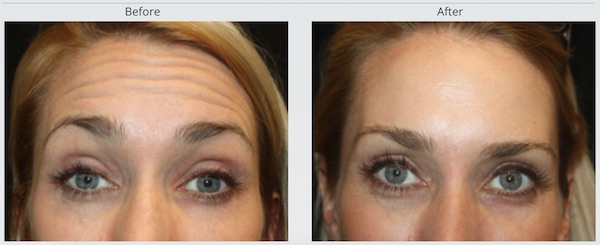 BOTOX and DYSPORT treatments at Premier Plastic Surgery Center of New Jersey are simple and safe, and can be completed by Dr. Brian S. Glatt's Nurse Practitioner Jennifer DeMaio in just ten minutes. The non-surgical procedure is easily performed in the office, and consists of only a few tiny injections. Within days you will see a noticeable improvement or complete disappearance of lines. The effects of BOTOX and DYSPORT treatments typically last three to four months.
No recovery time is needed; patients can
return to their normal activities immediately!
Results can be dramatic and with no downtime! BOTOX and DYSPORT are the only treatments of their type and both are approved by the Food and Drug Administration (FDA).
BOTOX Cosmetic Treatment for Excessive Sweating
We have helped many people with hyperhydrosis, and the Botox treatment takes only a few minutes.
If you have excessive underarm sweating, BOTOX Cosmetic injections can help! Excessive underarm sweating, also known as axillary hyperhydrosis, is caused by the overstimulation of sweat glands by certain nerves in your body. This condition can lead to substantial emotional stress, social stigma, and high costs associated with clothing cleaning and replacement.
BOTOX is now FDA-approved for treatment of excessive underarm sweating that does not respond to topical applications such as deodorants and powders. This simple treatment is fast, safe and effective. Most patients notice a significant reduction in underarm sweating within 48 hours of their first treatment, and results typically last 9-12 months!
For more information about how we can help treat areas of excessive sweating with BOTOX, contact Premier Plastic Surgery Center of New Jersey today.
Schedule a BOTOX Cosmetic Treatment at the Premier Plastic Surgery Center of New Jersey
If you are considering BOTOX Cosmetic and/or Dysport treatments, contact Premier Plastic Surgery Center of New Jersey today. We will gladly answer any questions you may have.