Jeuveau (Newtox)
Offered at our convenient location in New Jersey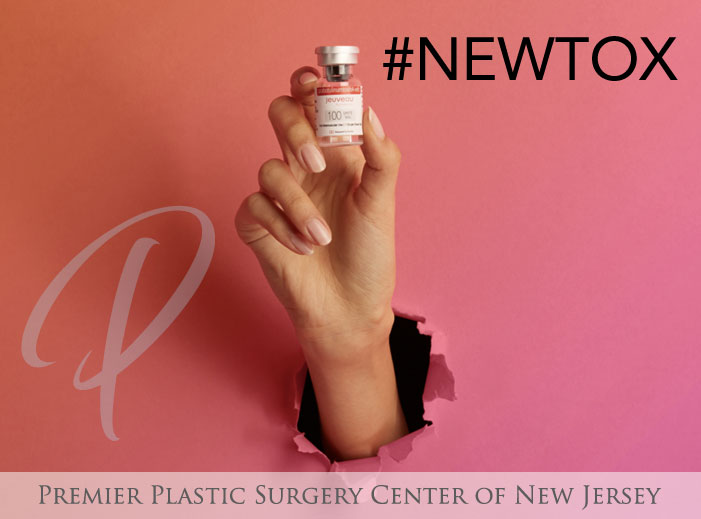 What is Jeuveau?
Jeuveau (NEWTOX) is a newly FDA approved neuromodulator (a neurotoxin like Botox) injectable aesthetic treatment for the temporary improvement in the appearance of frown lines between the eyebrows, now available in Morristown New Jersey.
How does Jeuveau work?
Jeuveau works in the same manner as Botox and Dysport. Jeuveau is used to treat, control, prevent and temporarily improve the appearance of moderate to severe lines on the face.
Is Jeuveau like Botox? "Jeuveau vs Botox"
Jeuveau is very similar to Botox, which is a proprietary type of neuromodulator. They are both derived from the same bacteria and work similarly to improve the appearance of lines and creases on the face. Both have a similar onset of effect and a similar duration of results. Both treatments can also be used on many different areas of the face. Currently Jeuveau is FDA approved only for treatment of glabellar creases (the lines between the eyebrows). It can be safely used "off label" for other areas as Botox was for many years. Botox has received FDA approval for use on many areas of the face such as glabellar lines, crow's feet, forehead lines, neck bands, teeth grinding and chin dimpling to name a few.
Why should I choose Jeuveau over Botox?
Choosing one brand of neuromodulator over another is a decision based on the patient's goals and the administering clinician's experience and preference. At Premier Plastic Surgery Center of New Jersey, Dr. Glatt and his expert Nurse are comfortable with all FDA approved neuromodulators and will work closely with you to determine which treatment option will achieve optimal results for you.
If I have been happy with the results of my Botox injections, should I try Jeuveau?
If you have been satisfied with the results of your Botox treatments, then there is no clinical reason to switch. However, if you are looking to try something new, the results of Jeuveau should be comparable to what you have experienced with Botox.
Can I have Jeuveau if I've had Botox injections?
You absolutely can have Jeuveau injected by the providers at Premier Plastic Surgery Center of New Jersey even if you have had Botox treatments in the past. Jeuveau is simply a new type of neuromodulator treatment which works similarly to Botox.
What areas of the face can be treated with Jeuveau?
Jeuveau was formally studied and shown to be effective to treat glabellar lines (lines between the eyebrows – the "11's."). However it can be safely used "off label" to address forehead lines, crow's feet, upper lip lines, frown lines, teeth grinding and neck bands.
What areas of the body can be treated with Jeuveau?
Though it would be "off-label," Jeuveau can be used to treat any area that Botox or Dysport has been used since Jeuveau is the same class of neuromodulator.
Is there downtime with Jeuveau?
There is no downtime with Jeuveau, just as there is none with Botox. There is always a risk of a small bruise at the injection site, however, this is unusual. The majority of patients do not look like they have had any treatment minutes after our providers complete injections.
How long does it take to see the results of Jeuveau?
Patients can see an improvement in lines and creases as early as 2 to 3 days, although it can take up to 7 to 10 days to see the final outcome.
How long does Jeuveau last?
Similar to Botox, Jeuveau lasts several months, and most patients will experience from 3 to 5 months of longevity.
Why does Jeuveau last longer in some people?
The duration of effect is dependent on a few factors, including an individual's muscle mass and metabolism. In some people, Jeuveau does not last as long because they have greater muscle mass and metabolize the drug more quickly. Also, the dose administered ("how many units") plays a role in longevity.
How much does Jeuveau cost?
The cost of the treatment is very similar to Botox or Dysport and heavily dependent on the number of units required to treat the desired areas. Following a full evaluation, but prior to undergoing treatment, pricing will be discussed with you by one of our Patient Care Coordinators. If you've had prior Botox treatment, the number of units of Jeuveau required will be the same as your Botox formula.
Ready to get started?
Ready to learn more about Jeuveau (Newtox) injections and find out if you are a good candidate? Click the button below to request your appointment now.