Brow Lift
Offered at our convenient location in New Jersey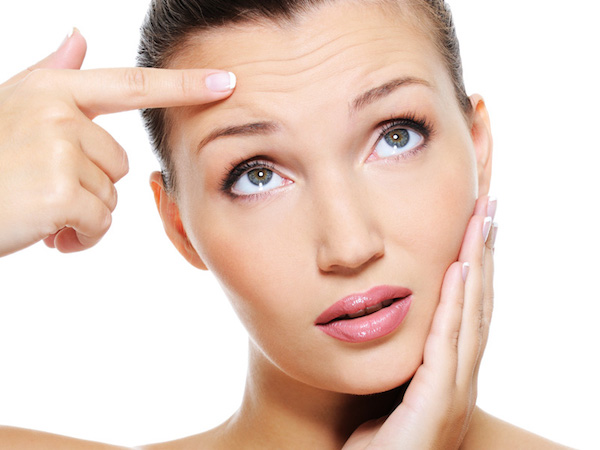 The brow lift procedure allows Dr. Glatt to tighten the skin and muscles of the forehead and eyebrow area that causes frown lines to form between the brows. These lines can give the face a tired or angry appearance, and can typically not be addressed with facelift or eyelid surgery procedures alone.
Dr. Glatt begins the brow lift by making a small incision behind the hairline where the resulting scar can be well hidden. He then tightens the underlying muscles, removes excess skin and tissue, and raises the skin and eyebrows to a natural and rejuvenated position that reduces the appearance of lines and wrinkles. A brow lift is a relatively short surgical procedure that creates a dramatic, age reducing appearance throughout the face.
Before and After Photos
What to Expect following your Brow Lift
Dissolvable sutures will be used to create a convenient recovery.
Following surgery, you will likely not have any bandages over the area but you will notice sutures on the outside of your scalp behind your hairline. These sutures should dissolve on their own, but as time progresses some may last longer and may need to be removed at 2-3 weeks. You can expect mild bruising, swelling, and mild discomfort for the first 24-48 hours following surgery. Please do not hesitate to take the pain medication prescribed for you. However, it may make you feel drowsy and constipated so please take with caution.
Please make sure to take your SinEcch as instructed on the box. This begins the day BEFORE surgery. If you get home later from surgery, 2 doses can be taken at once (end of day and before bedtime doses). By taking this supplement it will significantly reduce any possible bruising and swelling following surgery. Remember to NOT take any aspirin or aspirin-containing products (Motrin, Bufferin, etc.) until cleared to do so by Dr Glatt.
Follow post-operative instructions and call our office if you have any concerns or questions.
The medications that will be prescribed to you will consist of an antibiotic, a pain reliever, anti-swelling, and anti-anxiety. You will receive these prescriptions 1-2 weeks prior to surgery, please have these filled before surgery. Other than the Valium (anti-anxiety), these are all to be used AFTER surgery. You may take a Valium the evening prior to surgery if you are nervous and / or the morning of surgery (with a tiny sip of water). When discharged from the hospital, be sure to continue taking any regular medications you take as prescribed including your SinEcch.
When resting or sleeping, be sure to elevate your head on 2-3 pillows while on your back for the first week. For the first 1-2 days it may be helpful to place an old towel or sheet between your head and your pillowcase in case there is any drainage that may stain good bedding.
You will have a patch placed behind your ear or on your shoulder in the preoperative area just before your surgery. This medication helps prevent nausea postoperatively. Please remove it the day after surgery if you are not experiencing nausea. If some nausea remains, you may leave this patch in place for up to three days.
You will need to take a break from styling your hair for a few weeks until you have recovered.
You may start showering and washing your hair the day after surgery. Please be careful when washing your hair around the suture line. Do not scrub this area – treat is very carefully so as not to dislodge any sutures on the outside or inside. A mild baby shampoo is recommended. Do NOT use hot rollers or sit under a hair dryer. When using a blow dryer make sure to put the blower on the cool setting. Do not color or perm your hair for six weeks. After showering, gently pat the incision areas dry. Then, apply a pea size amount of antibiotic ointment (Polysporin, Bacitracin, or Aquaphor) to your suture lines preferably with a q-tip throughout the day.
You may experience numbness along the incision lines and possibly swelling, numbness, and at times headaches. These symptoms are normal and will lessen over time (4-6 weeks). You may use make-up to camouflage any bruising on your face and neck immediately if no other surgery was done.
It is normal to feel tired and want to take a nap mid-day. This is a common side effect from both the general anesthesia and the surgery itself. Your aerobic activity will be restricted for three weeks, this includes any bending, lifting, pushing, pulling, or straining. It will take anywhere from 4-6 weeks before you feel that your energy level has returned to normal. Please pace yourself and allow for rest periods during the day. When you return to work, you may want to consider working only half a day to start (preferably the second half of the day). Take extra precaution to protect your head and neck from bumps, hits or injuries.
Some patients are able to drive following their procedure.
You may drive after surgery when you feel ready and are no longer taking any prescription medicine. Avoid alcoholic beverages for at least 1 week especially since this will interfere with your medications. It can also increase swelling and bleeding. If you are experiencing any of these signs and/or symptoms listed below please call the office to report to Dr. Glatt:
Temperature above 101.5
Chills, excessive redness, or swelling of incision site
Persistent nausea and/or vomiting
Any drainage or separation of suture lines
Excessive or worsening eye pain, any problems with vision
Any injury to the face
Faithful adherence to all pre-operative and post-operative instructions will help minimize swelling, pain, and discomfort. Please do not hesitate to call the office with any additional questions and/or concerns at (973) 889-9300.
Schedule a Brow Lift with Dr. Glatt in New Jersey
If you are ready to learn how brow lift can brighten your appearance, contact the New Jersey practice of Dr. Brian Glatt to schedule a consultation today. During your consultation, Dr. Glatt will create a customized treatment plan to help you achieve the look you desire.