Skin Care
Offered at our convenient location in New Jersey
Premier Plastic Surgery Center of New Jersey's medically supervised skin care treatments lessen the effects of aging and help to repair damage from the sun and environmental toxins. Our professional grade skin care products improve skin tone, texture and brightness, reduce fine lines and unwanted pigmentation, and support healthy collagen levels for firmer skin. We offer a full range of skin care services in a soothing spa-like setting to help you achieve a rejuvenated, more vibrant appearance.
At Premier Plastic Surgery Center of New Jersey, each skin care treatment and home care program is tailored to your individual needs, to revitalize your complexion and produce a more youthful, healthy glow. As a stand-alone treatment, or to enhance cosmetic procedures such as facelift, blepharoplasty, or brow lift, we invite you to experience Premier Skin Care; where your skin care treatment is as unique as you are!
Medically Supervised Skin Care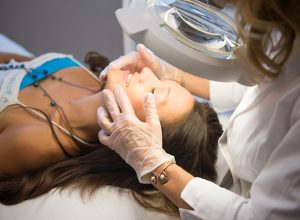 Our licensed Medical Aestheticians will evaluate your skin's tone, texture and condition, and tailor a treatment to address your individual needs. A physician grade home care program will be designed to work in conjunction with your treatments to improve your skin's overall health. Premier Plastic Surgery Center of New Jersey uses only the highest-quality professional grade products and our skin care specialists are licensed to perform a full complement of advanced skin care procedures.
Our Medical Aestheticians
With multiple licensed Medical Aestheticians on staff, we offer a full range of services to patients in New Jersey, as well as and the entire tri-state area.
Advanced Skin Care Treatments
Virtue RF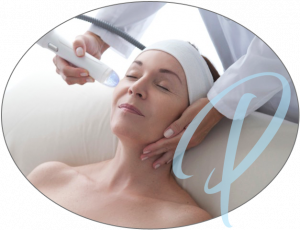 Virtue RF, represents a significant advance in our medical grade skin care offerings. This treatment, which is administered by our highly skilled and expertly trained aestheticians, enhances your skins' health and appearance with three state of the art modalities, all in one device.
Virtue RF combines the benefits of Micro-Needling, Radio Frequency (RF) energy and LED Light therapy to deliver a revolutionary skin care experience. Virtue RF, an FDA approved device, aids in the minimization of wrinkles, fine lines, scarring, and pore size, while improving skin texture and tone as well. In addition, Virtue RF can be used on areas of the body other than the face such as the neck, chest, and back of the hands.
HydraFacial MD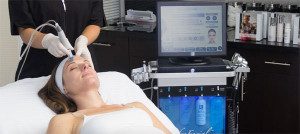 The HydraFacial MD is a medical grade, facial resurfacing treatment that can be given in as little as 30 minutes. It promotes long-term skin health benefits and can be tailored to meet the specific needs of all skin types.
The multi-step treatment cleanses, evenly exfoliates and extracts to remove impurities and dead skin cells while simultaneously replenishing vital nutrients including Antioxidants, Peptides, and Hyaluronic Acid. The HydraFacial MD offers instant, noticeable results with no downtime or discomfort.
MicroNeedling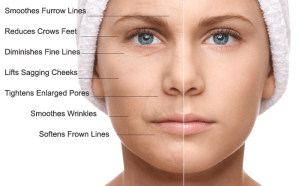 Based on the skin's ability to repair itself when damaged, the concept of MicroNeedling is to trigger the skin's natural response to the procedure, stimulating the release of growth factors that produce collagen and elastin, resulting in smoother, firmer skin.
Especially effective on upper lip lines, MicroNeedling can also be used to improve any area of the face, including under the eyes, and improve skin tightness and radiance. MicroNeedling has provided exceptional results with no downtime and little to no discomfort, and is safe on all skin types.
Dermaplaning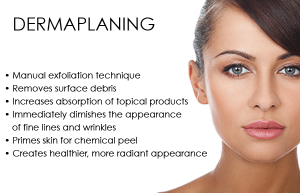 Sometimes referred to as epidermal leveling or blading, Dermaplaning is a medical skin treatment consisting of manual exfoliation of the outermost layers of the epidermis. Using a surgical blade, the skin is exfoliated gently, removing dead skin cells and impurities.
During this treatment, vellus hair, commonly referred to as "peach fuzz", is also removed, however, this hair will not grow back any thicker or darker than it was before treatment. Dermaplaning may be done as an alternative to a chemical peel, or as the first step of a multi-level treatment which combines dermaplaning with a chemical peel, for deeper penetration of the peel.
Chemical Peels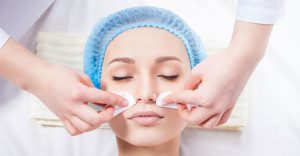 Chemical peels help to rejuvenate the surface of the skin to help treat fine lines and wrinkles as well as smooth out pigment issues. These treatments aim to accelerate skin exfoliation to create renewed, healthier-looking skin and a more uniform complexion. All of the peels and skin care treatments in our facility are individualized and specifically selected and administered by our licensed skin care professionals.
Our peel options are constantly changing and evolving to keep your skin in the best of health. For more intense treatments, Dr. Glatt administers peels that produce a much more profound result, but also entail a more rigorous recovery time – consultations need to be scheduled with Dr. Glatt to discuss this option. Below you will find some of our latest peels and treatment options.

The Perfect Peel: Never before has a chemical peel offered results at this level to all ranges of skin types. The Perfect Peel contains a key anti-aging ingredient glutathione, which is the ultimate antioxidant known to prevent damage to important cellular components. The Perfect Peel works from the inside to repair and nourish the skin by giving it a radiant glow, refining pores, improving skin hyperpigmentation, lifting melasma, diminishing fine lines and wrinkles, eliminating acne and preventing acne scars. Most importantly, the glutathione element defies the aging process.
Vitalize Peel: The Vitalize peel works to reduce the appearance of mild-to-moderate skin imperfections, fine lines and wrinkles, sun damage, acne scarring, hyperpigmentation and melasma. Two to five days of mild-to-moderate peeling is expected after this treatment. The Vitalize Peel peel is safe to use on all skin types and can be repeated every three to four weeks.
Rejuvenize Peel: The Rejuvenize Peel addresses moderate-to-severe visible fines lines and wrinkles, sun damage, pigment abnormalities and acne scarring. This peel targets the deeper layers of the epidermis for enhanced exfoliation. Two to five days of moderate peeling is expected with this treatment. This peel is for specific skin types and its use is best determined by our licensed skin specialists.
Micropeel Sensitive Skin: mild peel solution formulated with niacin, lactic acid, and usnic acid. This peel gently exfoliates all types of skin, decongests pores, hydrates skin, and helps improves the appearance of photodamage.
Micropeel 20 & Micropeel 30: These peels contain a glycolic acid component which helps to improve the appearance of fine lines, wrinkles, dullness, visible skin imperfections, and visible signs of photodamage. Micropeel 30 will be administered by our licensed skin care specialist to those who have previously tolerated Micropeel 20 Solution.
Micropeel Plus 20 & Micropeel Plus 30: A salicylic acid factor in these peels is geared to help improve the appearance of acne, fine lines and wrinkles, uneven skin tone, laxity, dullness, and skin imperfections. Micropeel Plus 30 will be administered for those with more suitable and tolerant skin.
Gel Peel GL: This peel combines the power of both glycolic and lactic acids to exfoliate surface cells and hydrate the skin. Gel Peel GL is a great option to revitalize the appearance of photodamaged skin.
Gel Peel SM: This combination gel peel composed of salicylic and mandelic acids manages problematic skin and promotes exfoliation. Gel Peel SM is formulated to address pore congestion, wrinkles, other signs of aging, and irritation.
Skin Care Products and Home Programs
Skin Care Products
Medical grade skin care products available for purchase from our facility can provide your skin with the attention needed to achieve healthy luminous tone and texture. All of our product lines are based on cutting edge technology, backed by scientific studies and proven to be advantageous for all skin types and conditions. They are all medical grade and not otherwise available for commercial purchase. A customized regiment will be developed specifically for you by our skin care specialists to help restore and balance all of your skin's essential needs.
Allergan's SkinMedica
SkinMedica skin care products are the result of almost two decades of research and clinical experience. Products are geared towards rejuvenation so everyone can have naturally radiant skin. Scientifically formulated products are created to improve the overall appearance of skin with a patented blend of growth factors, soluble collagen, antioxidants and matrix proteins. SkinMedica products are great for a lifelong skin care solution for healthier looking skin.
Neocutis
Originally established for wound healing and burn treatments, Neocutis's proprietary skin care ingredient, Processed Skin Cell Proteins (PSP), provides the most complete and balanced combination of human growth factors and cytokines currently available. Neocutis skin care products work toward anti-aging and are also a great post-procedure skincare option. Their exclusive technology addresses key skin care concerns, including the signs of aging, discoloration, oxidative stress, skin redness and dryness.
ZO Skin Care Products
A skin care line developed by Dr. Zein Obagi, the Creator of Skin Health, and World-Renowned Dermatologist. His newest skin care line principles therapeutic, maintenance, daily skin care and prevention objectives. Specialized medical grade products, available by prescription only, will enhance your skin health and overall quality. From broad-spectrum products anyone can use, to targeted skin care treatments ZO Products are an essential line to help achieve and maintain healthy skin.
Our skin care specialists will create a personalized skin care regimen to target your skin type and address your individual concerns.
Contact Us for Your Professional Skin Care Product and Treatment Needs
Our Medical Aestheticians will customize a treatment plan to target your individual needs. To learn more about our skin care services, contact Premier Plastic Surgery Center of New Jersey.
ALASTIN Skincare
An innovative collection of specially formulated, clinically proven products with ingredients to support the skin's ability to clear out damage caused by aging and environmental factors and replenish the skin with healthy new collagen and elastin.  ALASTIN offers cruelty free, paraben free, and gluten free solutions that promote fortified, healthy skin for use as part of a daily skincare regimen or to enhance the appearance of skin following some of the most popular skin care procedures.
These exciting and highly effective new products are now available for purchase at the Premier Plastic Surgery Center of New Jersey. Please contact us at 973-889-9300 for more information or to purchase Alastin today. You may also schedule a professional skin care treatment during the same call should you wish to take a further step towards rejuvenating the outer appearance of your skin.