Vivace Fractional MicroNeedle RF
Offered at our convenient location in New Jersey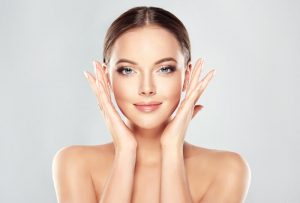 The Vivace Fractional Micro Needle RF, our newest skin care technology, represents a significant advance in our medical grade skin care offerings. This treatment, which is administered by our highly skilled and expertly trained aestheticians, enhances your skins' health and appearance with three state of the art modalities, all in one device.
Vivace combines the benefits of Micro-Needling, Radio Frequency (RF) energy and LED Light therapy to deliver a revolutionary skin care experience. Vivace, an FDA-approved device, aids in the minimization of wrinkles, fine lines, scarring, and pore size, while improving skin texture and tone as well.  In addition, Vivace can be used on areas of the body other than the face such as the neck, chest, and back of the hands.
Vivace Benefits
To accomplish thermal tightening of the skin, something traditional microneedling cannot do, the Vivace Fractional Micro Needle RF utilizes a robotic motor to accurately and precisely place gold plated needles at the optimal depth, allowing the radio waves to be activated in multiple layers of the skin. The depth can be adjusted throughout the treatment to customize delivery to each targeted area.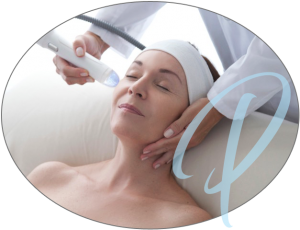 Previously, the level of thermal tightening which can be achieved with Vivace was only possible with the use of an ablative laser, such as a CO2. However, while effectively treating the area responsible for collagen production, ablative lasers compromise the outer layer of the skin.
Now, with the Vivace Fractional Micro Needle RF, our aestheticians are able to adjust both the depth of the needles and frequency of the energy during each pass, thereby delivering the most effective results without damage to the protective outer layer of the skin. This eliminates the recovery time associated with the use of ablative laser treatment, as there is no downtime following treatment with Vivace.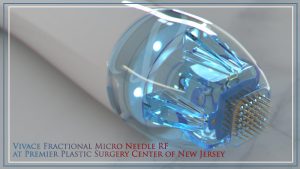 The precision of Vivace's gold plated needles ensure clean and open channels in the skin that remain open for four to six hours allowing better absorption of treatment serums, a potent enhancing mask and a soothing recovery system (all included with your treatment) to optimize recovery and deliver noticeable results.
To further improve your skin's appearance, Vivace incorporates LED therapy as well. Red LED light therapy stimulates additional collagen growth while Blue LED light works to disrupt acneic bacteria for those who suffer with acne.
"The demand for an effective and powerful skin care treatment which delivers noticeable results without downtime is at an all-time high.  Although we currently see great results with our traditional microneedling treatments, now that we are able to combine radio frequency and LED with microneedling in one sophisticated treatment, our patients will realize even greater results with no downtime," says Dr. Glatt. "The Vivace fractional micro needle RF system provides an incomparable patient experience." (Read the official Press Release here)
Is Vivace Right For Me?
Whether you are looking to address pigmented acne scarring, reduce the appearance of fine lines and wrinkles or improve the tone and texture of your already healthy skin, our practice is excited to offer a tool that addresses all your concerns.
Vivace MicroNeedle RF can be performed on all skin types, and although results may be seen immediately, three to four treatments spaced a month apart are recommended for optimal outcomes. Results will further improve for up to three months following your treatment. Best of all, the process is virtually pain-free, there is no downtime following your Vivace treatment and you will leave looking refreshed, with a healthy, hydrated glow.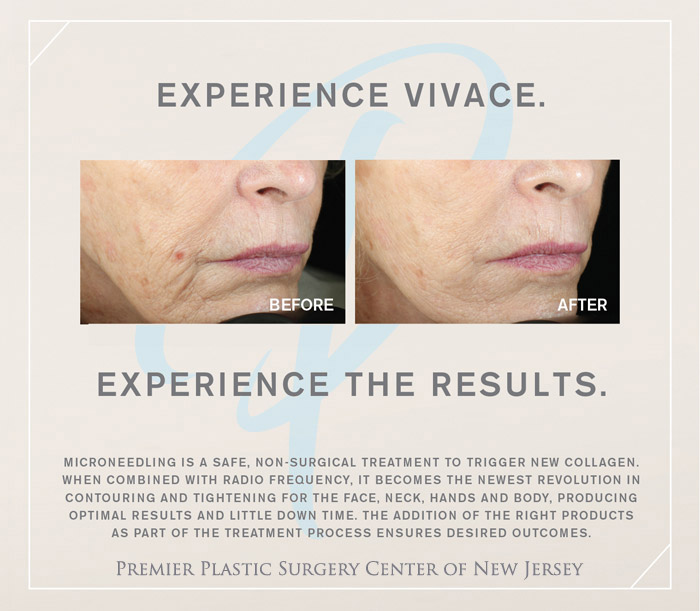 Contact Premier Plastic Surgery Center of New Jersey today to schedule a consult with one of our Aestheticians to discover how the Vivace Experience can transform your skin!